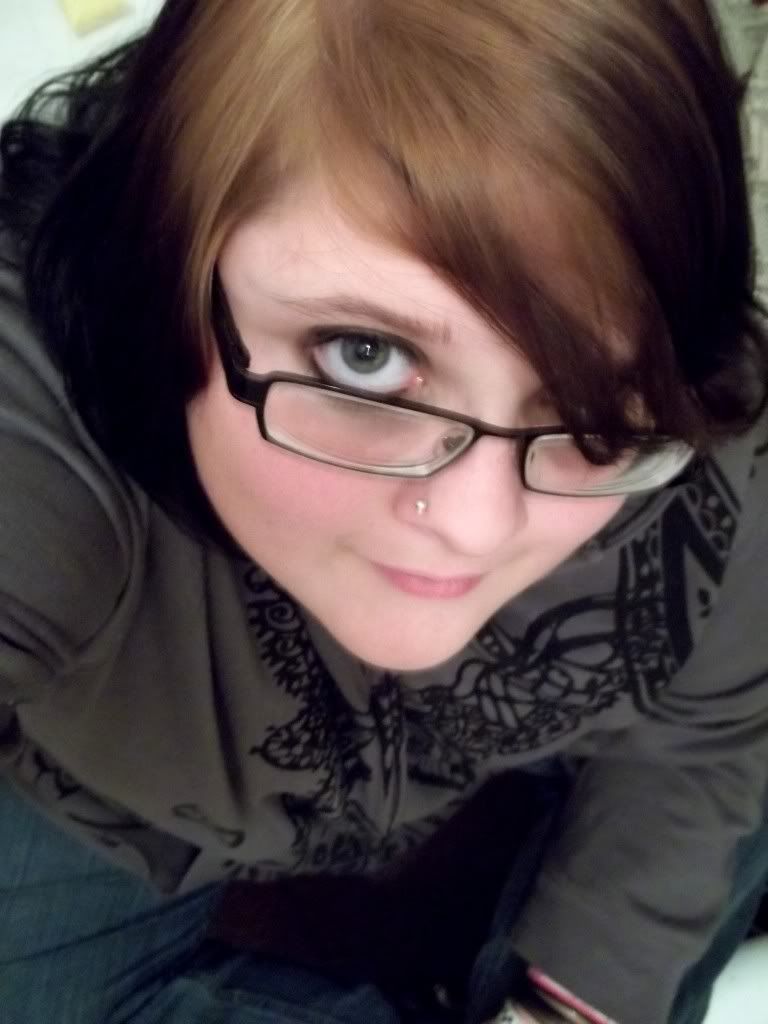 I'm kind of POed right now with a certain someone, so forgive any mispellings or punctuation fails. Thanks :).
So, this is my new hair :). It's a weird mix up and not how I originally wanted it but I still like it. Originally it was supposed to be long in the back and really short in the front with bangs similair to how they're cut now but a little longer but the girl said the reference picture was "confusing" 0.o...Whatever. Haha. The dye wasn't what I had in mind but it's not easy to keep the colors separated. The dye was supposed to look like Strify's from Cinema Bizarre.
But, oh well. It's still not the usual flat black. Haha. I'm also a little sick in the picture so my cheeks are a little red.
ANYWAYS!! Goods and Bads of the year -for me at least. I've recently found a few bands that my metal head / rocker viewers -if I have any- should look up and avoid. First, let's start with the bad. AVOID, AT ALL COSTS, Blood on the Dancefloor!!! I don't give a crap how popular it is with "scene"ies. They SUCK!! All they really sing about is sex and that's it. The singers voice is seriously annoying. Worst mistake of my 2010 year, looking them up!! Okay, now that I've got that off my chest -and out of my ears- you need to look up a band called Seremedy!! They don't have a deal and aren't very popular -I doubt anyone else in my town has even HEARD of them- but they're really good. I really recommend looking up their song Distant F**ker and Bulletproof Roulette -and not the live versions until you've heard the originals. This year I've also heard of Black Veil Brides and I bow to the strangers who introduced me to that WONDERFUL band. I LOVE Andy Sixx. His voice is awesome and it's transition into screamo is great! I hope they come to J-Town, I WOULD KILLLLL to see them live. I've also found a few other bands you should look up, A Perfect Circle, Escape The Fate, Bring Me The Horizon -not for metal haters- and Rise Against.
A movie I DO NOT recommend, Repo Men, kinda slow and boring. The acting was a bit awkward too. A few movies I DO recommend, Resident Evil: Afterlife. If you can get past the fact that they greenscreen most of the movie and the seemingly ripped off scenes and lack of original action, it's really a good movie. It's also slightly heartbreaking that they **SPOILER (highlight to see)
took the T-Virus out of Alice
*** and they didn't go through with finding a cure as they said Alice would in the last movie but I think the new creature, I think his name is Executioner??, makes up for that completely!! He seriously scared the hell out of me!! If I seen that thing coming at me, I'd totally jump off a cliff!! Haha. I also, obviously, recommend Twilight Saga: Eclipse and Alice, both GREAT movies! Eclipse is probably my favorite of the series yet, though it's upsetting that they cut a few of my favorite parts from the book out.
I think I've met my twin sister in 2010, still trying to grill it out of Mom, haha. Caitlyn aka MarcelineVamp, we're so much a like that it's scary and I don't think I've ever had a friend like her!! We'll be moving soon so I doubt I'll update you as much, so, if I don't post again soon Happy, Merry, Have A Great whatever's next!! <3 <3 Goodbye 2010 HELLOO 2011!!! Happy New Year everybody and Happy 72nd birthday to my awesome grammy!!
Current Mood:

cranky

Current Music:

The Outsider - A Perfect Circle